The Delusion of Inequality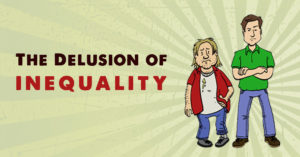 "You are all brothers and sisters," Jesus says (Matthew 23:8), exposing a wicked and unforgiving delusion to the light. Namely, the Delusion of Inequality. In one short passage, Jesus shows us where humanity needs to go and he exposes what has kept us from getting there. The societies of the world are built around the delusion of inequality, and effectiveness in this life often requires us to exploit it. None of us live as if we are all equal. We each have a tenacious, deeply entrenched, preexisting spiritual condition. By the time we discover Jesus's teaching on humility—if we ever discover it through the smog of the ditches—we're already thoroughly soaked in the delusion of inequality.We've already constructed a life, a personality, and a worldview around the principles and scripts of that delusion.
Jesus is telling us that things are not what they seem. Equality is reality, and Jesus shows us how we can now move toward it—invulnerable to the wicked economy of inequality, no longer harassed by the tyrannical priorities and unnecessary anxieties of a fluctuating ego.
We are far more familiar with inequality. That's what we're used to. The equality Jesus teaches seems idealistic, and our minds become conditioned against it. We come to see equality as something that just doesn't fit here in our world, but would be great somewhere like Narnia. I understand this sentiment. But I believe, even here in our inequality-bathed world, embracing the equality Jesus teaches, founded on God's love, has profound benefit.
Someday the facade will fall, and we will all see how ridiculous the big shots are and how perfectly adequate the outcasts have always been. We'll see that nobody deserves to be oppressed, and nobody is entitled to oppress. We'll see that oppression is a symptom of a world still desperately trapped in the delusion of inequality. We'll see that oppression and inequality are merely the anxious tantrums of a people still trying to secure themselves with a thousand strange things other than God's love for them.
This presentation exposes how shame and pride are really, deep down, the same thing. The presentation also reveals what the delusion of inequality looks like and offers many tactics toward overcoming the delusion and living more effectively in the reality of equality. Living in equality makes us secure, and allows us to find confidence in ways that other people, still trapped in the delusion of inequality, can't find for themselves.
Length: 2-4 hours
Request This Presentation