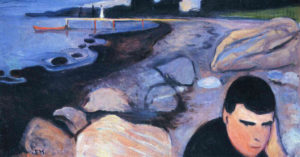 Taking medication is nothing to be ashamed of. The point of this workshop isn't that medication is a bad way to fight the disease of depression. The point of this workshop is that depression is far more than a simple disease. 'Disease' barely begins to capture the nemesis that is depression. Depression is, rather, a wicked, dark fiend, a nefarious freak from a parallel dimension, hellbent-and-desperate to thoroughly destroy you, to wreck you from brain to bone, and to rob you of every ounce of your power. If you're in a battle with depression, you are in an actual battle—and your adversary is a wicked genius who will sabotage your neurotransmitters, diminish your moods, disrupt your appetites, corrupt your cognitions, and harass your heart. It is warfare, and your enemy is great. You may have to take medications, and that's fine. Above all, keep yourself safe. Just know that medicine will deplete your resources (see: 'side-effects'), and, in the momentous battle before you, you will need all the resources you can get.
Depression is a symphony of suck. It's an orchestra of melancholy. It's not a flaw born in the self so much as it is a complex bombardment crashing down on us from a thousand directions. Depression is a calculated assault from a maniacal terrorist organization, managed by a demonic demigod, hellbent on destroying your life. It's a greedy thug, from a criminal underworld, a desperate tyrant, that feeds on your well-being and profits off your woe.
Isn't depression a disease? Oh, if only it were merely disease!
Isn't depression a disease? It doesn't matter. In fact, this is just the type of question your adversary wants you to ask, as it distracts you from your real foe.
Isn't depression a disease? It might be. But it's Happiness, this workshop will argue, that is more like a disease.
This workshop will look at how complex the forces are that contribute to our mood and will look at battle tactics to take control of your moods again.
Length: 1-3 hours
Request This Presentation